Maps
This interactive map includes information about land status (park, preserve, wilderness, non-NPS lands), trails, GMU boundaries, and key hunt area boundaries. You can zoom into areas of interest, turn on and off layers relevant to your trip, and download customized georeferenced PDF (Portable Document Format) maps that can be printed, displayed on a PDF reader, or uploaded to a GPS-enabled mobile device, such as a smart phone.
These maps provide important information for hunters including game management unit boundaries; park, preserve, and wilderness boundaries; trails; and non-federal lands within the boundaries of Wrangell-St. Elias. All maps can be viewed on a PDF reader or printed. Some of the maps are georeferenced PDFs that can be uploaded to a GPS-enabled mobile device, such as a smart phone.
Topographic Maps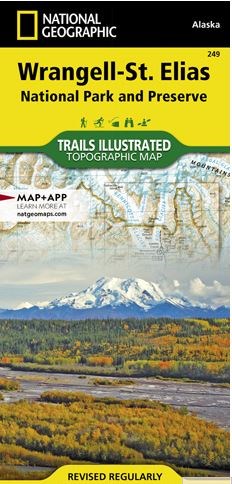 We recommend that backcountry travelers use the USGS 1:63,360 (1 inch = 1 mile) topographic maps, also known as 15-minute quadrangle maps, for use in the backcountry. This part of Alaska is not covered by USGS 7.5-minute maps.

The National Geographic Trails Illustrated Wrangell-St. Elias National Park & Preserve Map provides a great overview of the park for trip planning. It is waterproof, tear resistant, and covers the entire park. Do not rely on this map for navigating in the backcountry.

Wrangell-St. Elias is a dynamic landscape and maps that are just a few years old may no longer reflect what is actually on the ground. Remember that the most detailed maps have 100 foot contour lines. Maps are a vital resource, but always pay careful attention when navigating a route and never unquestioningly follow maps, GPS devices, or advice.

Where Can You Get Maps?
We strongly recommend that you purchase maps before you arrive in the park. The park visitor centers may carry some of the topographic maps that you need for your trip. However, you should not count on the park having the maps that you need. You can purchase topographic maps from Alaska Geographic, your local outdoor store, or the United States Geological Survey (USGS) website.

The map below shows all of the detailed 15-minute topographic maps available for Wrangell-St. Elias National Park and Preserve.
Land Status Map
(pdf format, 11 Mb)
Print the PDF version or right-click on the image to save the map.
There are approximately 750,000 acres of non-federal lands within the external boundaries of Wrangell-St. Elias National Park & Preserve. The major non-federal land managers include Ahtna Inc., Chugach Alaska Corporation, Chitina Native Corporation, State of Alaska, University of Alaska, and numerous smaller private property owners. For additional information and details regarding the location and boundary between federal and private lands, and public easements across Native lands, contact the National Park Service at Copper Center, Slana or Kennecott near McCarthy.
There are numerous small tracts of private lands in the McCarthy/Kennicott area and along the McCarthy and Nabesna Road corridors. We request that you become familiar with the land status including the location of public easements in the area which you plan to travel. Please respect private property and contact the appropriate non-federal landowner regarding any requirements they may have before entry onto their land.
Last updated: May 31, 2022